We are planning on releasing Simula One review units (stripped of certain features) at some point over the next 1-2 months. Here we outline the things we need to do before review units can be released, and provide some time estimate intervals.
1 What will (and will not) be included in our Review Units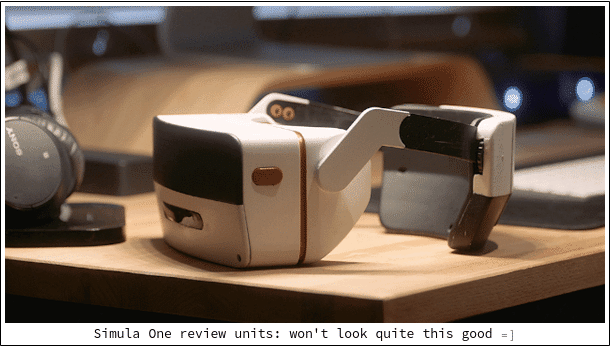 In the interests of getting our review units out as fast as possible, we have decided to strip certain features to save on development time. We basicaly plan to make the following compromises:
No AR cameras. Our front-facing RGB cameras will not be included be included in review units.
No Automatic IPD adjustment. IPD adjustment will be manual only.
Permanently detached compute unit. Review headsets will be cord-tethered to loose compute units (though likely featuring our new Alder Lake CPUs). This will require us to provide some temporary cable management.
No hand tracking. We're not planning on having hand tracking working (or at least working very well) on our initial batch of review units.
Other than this, our review units should prove that we have a basic integrated VR headset which is functioning, with excellent display quality and capable of running our Linux VR compositor.
2 Tasks remaining
2.1 Passive milestones (15-20 days)
Receive updated displays & lenses (15-20 days). We're receiving our latest batch of lenses and displays from suppliers over the next 15-20 days.
2.2 Electrical engineering milestones (15-29 days)
Finish VXR7200 board (2-4 weeks). As discussed in an earlier update, our VR displays require a VXR7200 MIPI Bridge (which splits a single DisplayPort into two MIPI-DSI lanes) in order to be connected with our compute unit. We've only tested the VXR7200 on an evaluation board, but need to finish the actual custom assembly for our headset.

Enable Display Signal Compression (DSC) on VXR7200 (1 day). Currently our displays are running with a 60 Hz refresh rate, but our target is 90 - 120 Hz. In order to achieve this, we'll need to enable DSC, which is a form of "visually lossless" low-latency compression that allows high def displays to reduce their bandwidth demand. "Visually lossless" means the reduction in bandwidth is entirely undetectable by viewers. Though this should be a simple fix, we're still waiting for support from Synaptics.

Tweak VR distortion parameters (2-4 days). As outlined in our most recent optics post, we distort the way our VR compositor renders images in order for them to appear properly through our lenses. Distortion will happen in the form of a monado driver.
2.3 Mechanical engineering milestones (31-65 days)
Adjust headset for updated lenses (2 days). The dimensions of our lenses have changed slightly in the past few weeks, requiring us to update our headset prototype for lens fitting.

Update headset strap (2-4 weeks). The strap mechanism on our old headset prototype isn't very sturdy, and needs adjustment before it is usable for review units.

Adjust headset exterior design for RealSense integration (2-4 days). As discussed in our technical overview, we are using an Intel RealSense module as a temporary test unit for our "inside-out" tracking. We are still planning on using a better tracking solution for our final headset release (using our RGB cameras and/or mmWave RADAR).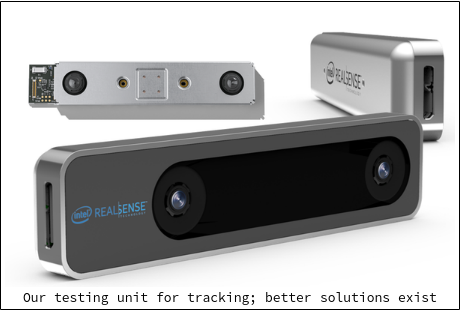 In order to use the RealSense modules, we have provided space in our headset exterior to fit them: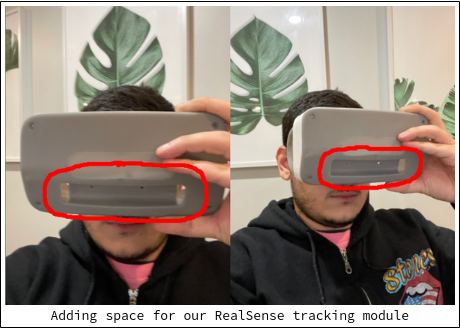 Headset exterior post-processing (2-4 weeks). We'll need to sand, paint, & polish headset exteriors so that review units look good on video =)

Create cable/compute unit management (1-3 days). For review units only: our compute pack will be loosened from the back of the headset, which could create a cable mess. We'll need to patch this up with either cable ties, or something else more sophisticated.
3 Visualizing review unit timelines
Putting the above estimates together, we can assemble both an optimistic & a pessimistic timeline for our review units. (These timelines are unfortunately hard to read without zooming in).
3.1 Optimistic Timeline
Our optimistic timeline has us completing these tasks by May 7th:

3.2 Pessimistic Timeline
Our pessimistic timeline has us completing these tasks by June 8th: